If you have a current Cityworks Service Request API integration, Cityworks users can now push comments to OneView as service request Public Comments. This feature allows Cityworks users to enter comments directly into the Cityworks comment field and those comments, when appropriately marked, will create a corresponding public comment in OneView. As part of this feature, the following business logic will be implemented.

Comments originating in Cityworks will be considered "marked" when the comment is preceded by the text, "PUBLIC:". The corresponding comment in OneView will not include the text used to "mark" the comment.

Learn How To Use This Feature:

Step 1. Open a service request in Cityworks and locate the Comment section

Step 2. Locate and click the Comment button

Step 3. Insert the text PUBLIC: and begin typing in your comment

Step 4. Once you are done typing in your comment click the Save Comment button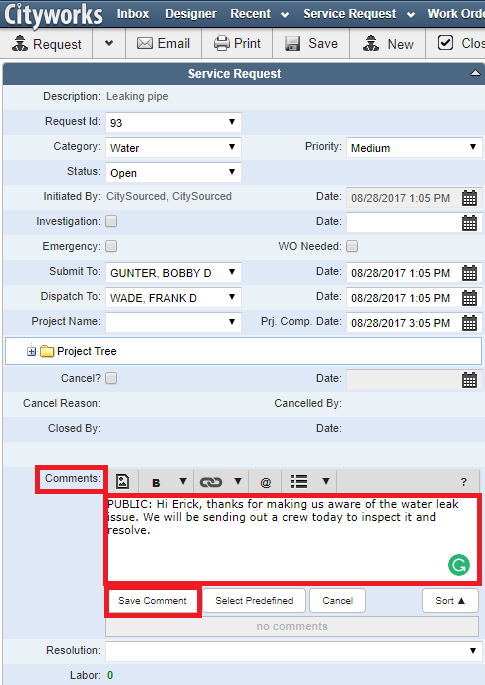 By following these steps, you'll successfully create a comment in Cityworks which will get pushed into the appropriate service request in OneView as a Public Comment. See below:





FAQ: Does the end-user (constituent) get notified of comments that get pushed from Cityworks into OneView?

Yes, the end-user will get notified via email of the comment that was pushed from Cityworks into OneView.

FAQ: Can the end-user comment back and if so, does his/her comment get pushed into Cityworks?

Yes, end-user comments will get pushed into the appropriate service request in Cityworks (Comment field).

FAQ: What if I don't use the PUBLIC: text, what happens?

If the PUBLIC: text isn't inserted in the comments field, the comment will not get pushed into OneView.

If you have any questions or comments, please use the comment section below.