What is a Widget?
Widgets allow you to embed the citizen facing web application within your own website or Facebook profile with no coding knowledge whatsoever. Widgets provide your users with another easy way to submit and view service requests, and sharing the widget code with community leaders will help to further promote your solution to the general public, which will get more requests coming though this more efficient channel.
Accessing Widgets in the Console
Based on a User's security role (System Admin or higher), widgets can be managed through the Console by selecting the gear icon on the top right of the page. (see below)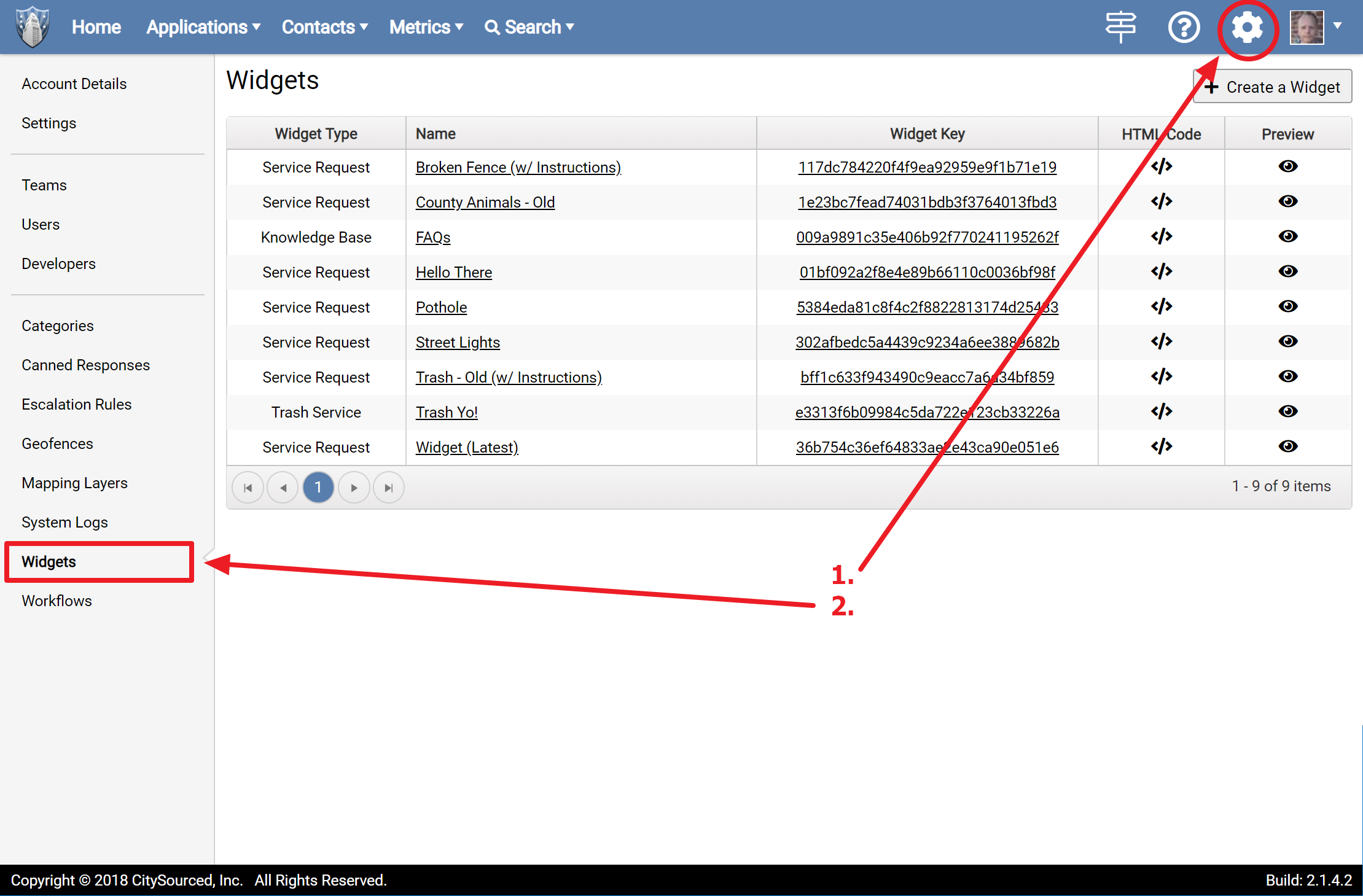 Once in the widgets page, any Widgets created will be displayed here. To edit the widget properties (such as the name, type, etc.), click either the Name or the Key.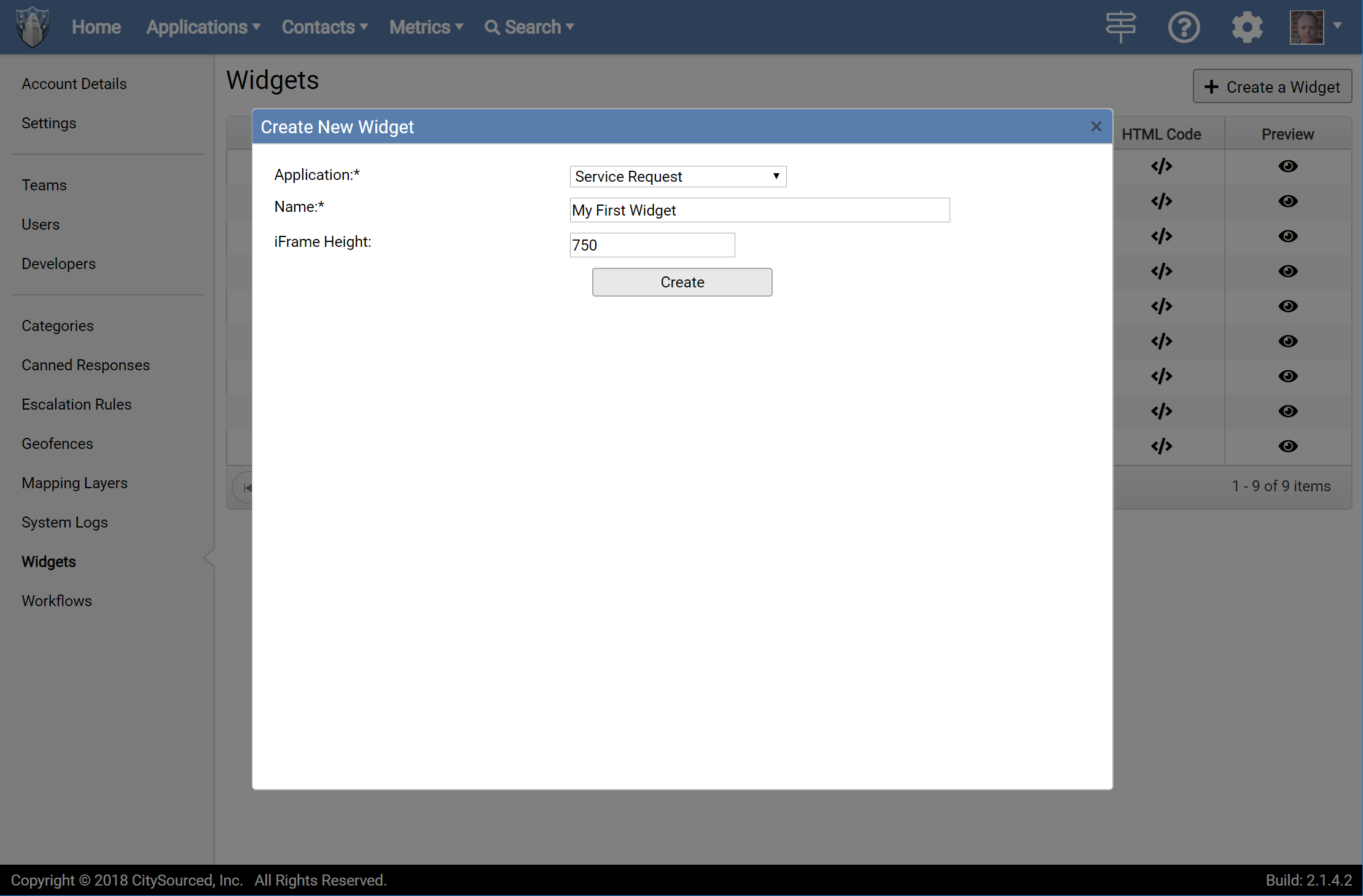 By clicking the HTML Code icon, you will be able to view the HTML code needed for embedding the widget into your website or other web application. You should be able to copy/paste this code into your website or web application - if you're unsure, please contact your webmaster for assistance.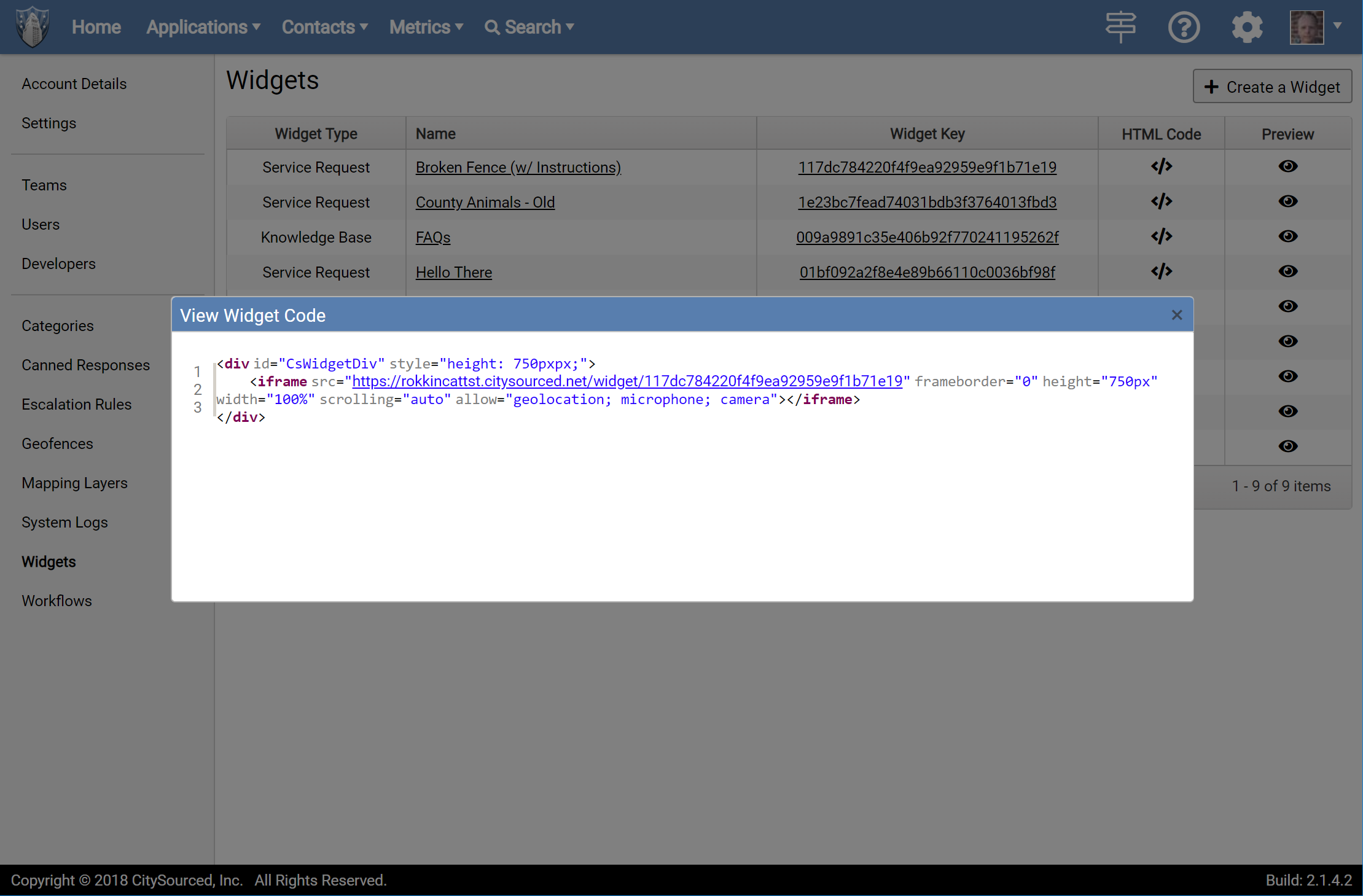 By clicking the Preview icon, you can see a preview of what the embedded widget should look like.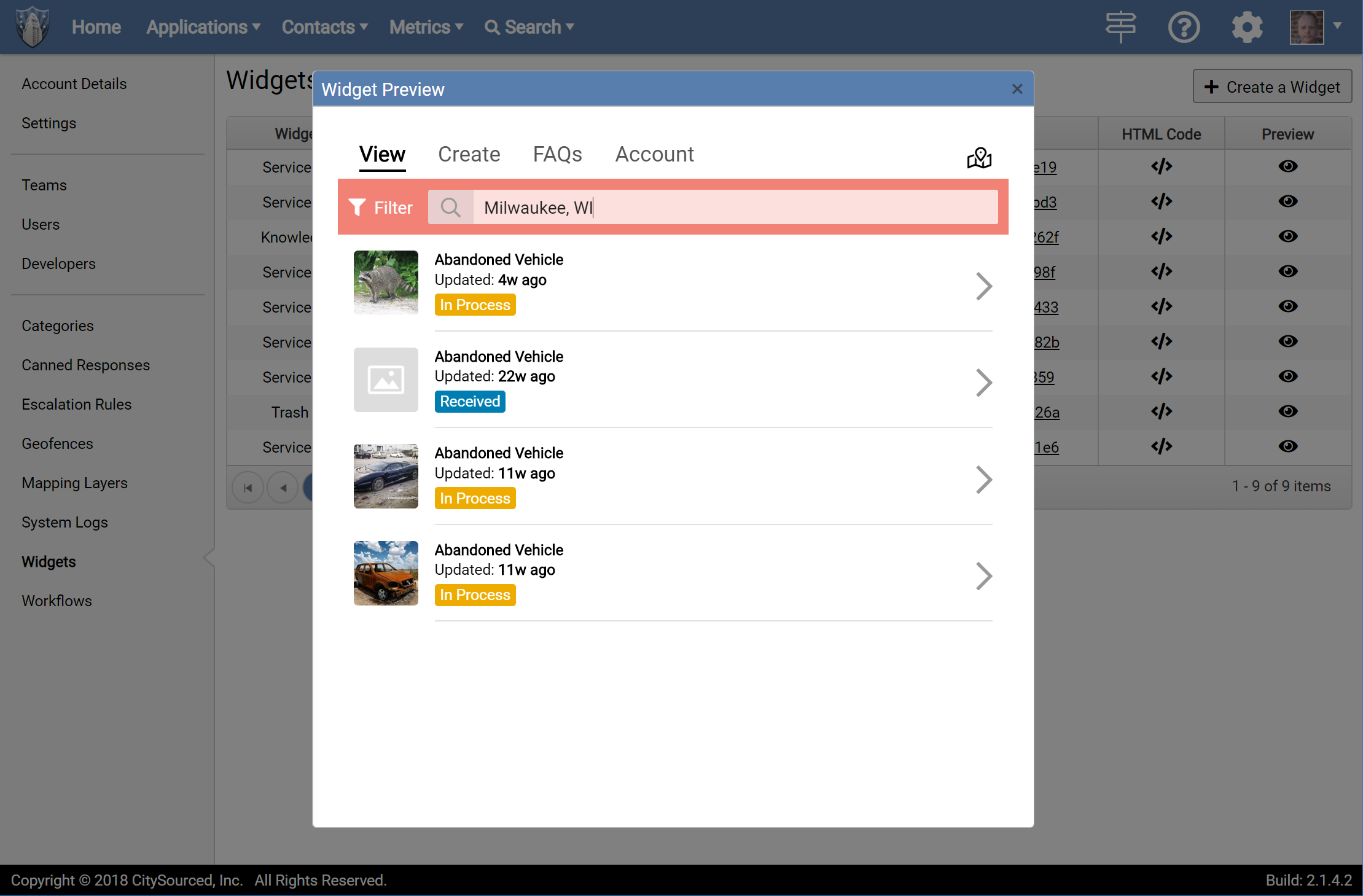 Creating a New Widget
To create a new widget, click the Create a Widget button in the top right corner.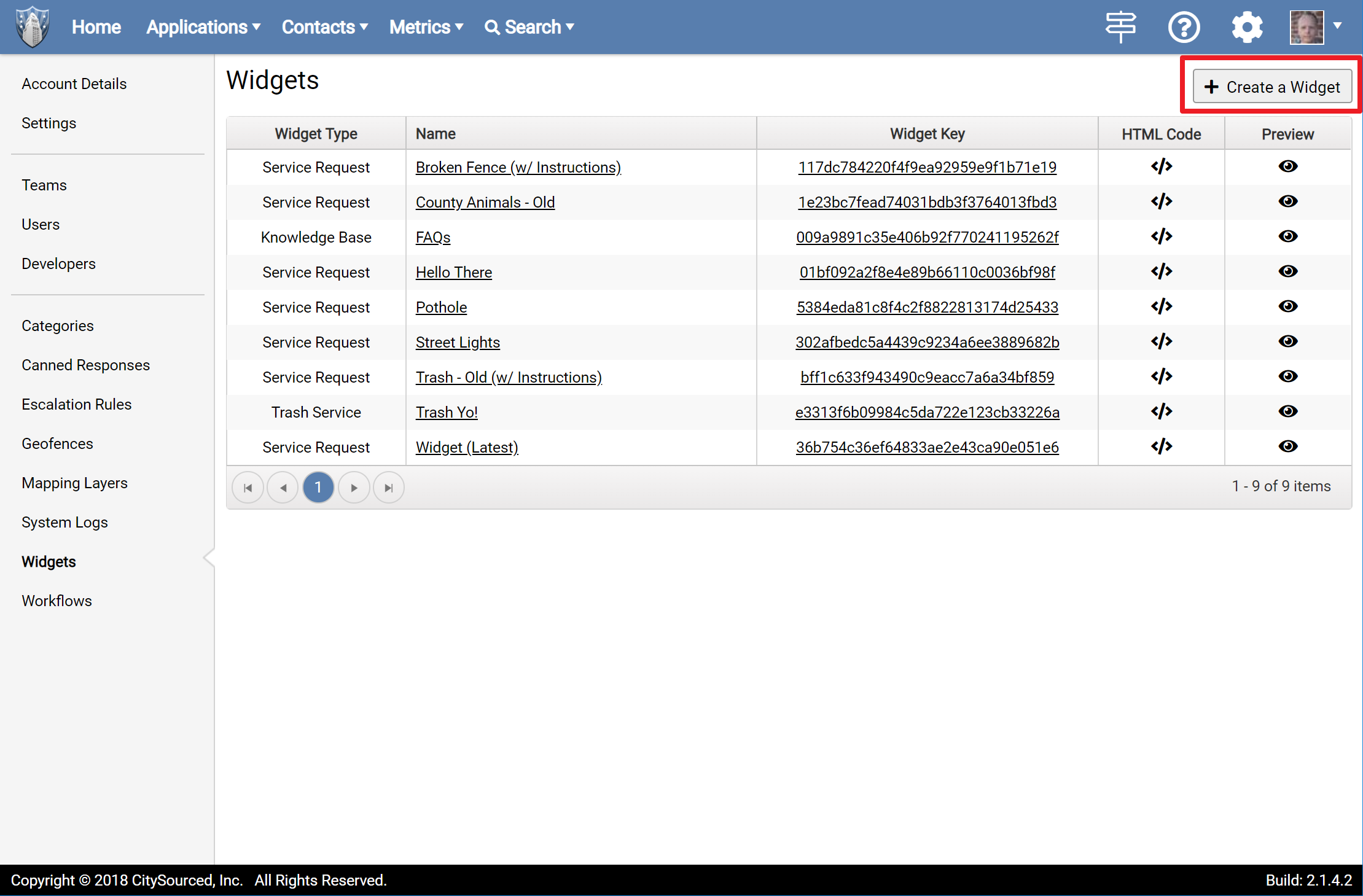 When the properties modal appears, enter:
An Application Type value. This can be:

Service Request (most common)
Trash Service
Knowledge Base

Please Note: Trash Service and Knowledge Base widgets are only available for those customers that have purchased those correlating OneView modules. For more information on how to get Trash Services or Knowledge Base, please contact our sales team.



A Name value. This should be something like, "Website Widget" or "Facebook Widget". You can put whatever you'd like here, but it should be descriptive so others logging into the Console know where the widget is located.
A Height value. We recommend a value no less than 600 here. The width of the widget is dynamic and will automatically adjust to the width of the website or web application.
Finally, click the Create button.
The modal window should disappear and your newly created widget should appear in the list.
Editing / Deleting a Widget
To edit or delete a widget, click either the Name or Key of the widget in the list. When the modal appears, enter new values for the widget properties and click the Update button or to delete, click the Delete button. When the edit or delete operation is completed, the modal will disappear and the list will be automatically updated.