Access the Knowledge Base by first logging into the OneView Console, then navigating to Applications, Knowledge Base.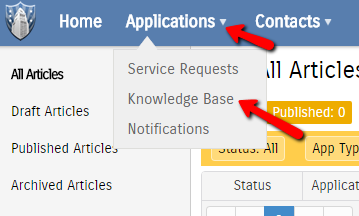 Articles are displayed in Views similar to Service Request Views within the Console. The default View displays all Articles that have been created. Create an Article by selecting the Create Article button on the top right corner.

Create Article
In this page, you can enter your Article contents and set settings for that Article. In the first dropdown, you can choose the App Type for which your Article belongs (ie. Service Request, Trash Service, etc.). When inputting the Knowledge Base in the App or on your website, you can limit the visible Articles to specific App Types.
For App Type, select the appropriate Application your Article is intended for.
Select the appropriate Status from the options below:

Published – This option will automatically publish your new Article upon creation.
Draft - If selected, your Article will be saved as a Draft Article, and remain within the Console/unpublished.
Archived – This option can be used to archive old Articles. Articles with this Status will not appear outside of the Console.

Enter a Title for your article. In FAQ's, traditionally the question that is answered in the article will be entered as the Title.
The Summary may include shortened text to preview the contents of the Article.
Enter the full Article contents in the Article
Sort Order is a numerical value that dictates the order in which articles are listed in your Site or App. The default value is '100'. If the same value (ie. 100) is selected for multiple articles, then they will appear in alphabetical order. Articles with lower values (i.e. 75) will appear first, whereas articles with higher values (i.e. 125) will appear at the bottom. Any numerical value may be entered in this field, and the display of the articles will follow the chronological order inputted.
Publish On: this field is optional. If you wish to Publish your article at a later date, select 'Publish' as your Article's Status, and enter the desired Publish Date in this field.
Expires On: this field is optional. If you wish to remove this Article from public view at a future date, enter the Expiration Date in this field.
Featured? Check this box if you would like the Article to appear as a Featured Article. Featured Articles are displayed as a list in the Knowledge Base, where as non-featured Articles appear when a User enters a matching keyword in the Search Bar.
Private? Private articles will not appear in the Knowledge Base for public view, even if they are published.
Disabled? Disabled articles will not appear in the Knowledge Base for public view even if they are published.
Once the required fields are completed and your article is ready, click Create at the bottom of the page.