Console users with the security role of User and above are able to edit Public Comments made by Staff or the Console (auto-generated).

Public comments are editable based on the following rules.
Public from Citizen: Comments of this nature cannot be edited or deleted. These types of comments can only be: A) Made Private: Seen only by the SR's author; or B) Set to Staff Only: Seen only by staff through the Console. Any action here will only trigger a notification to the SR's assigned user.
Public from Staff or System: Security Roles permitting, staff can update the text, mark a comment private, or delete a comment. Any action here will trigger a notification to both the citizen (SR's author) and assigned user.
NOTE: It is assumed that any notification to an assigned user will not occur if the assigned user is the performing the action.

Learn How To Edit / Delete Public Comments:

Step 1. To Edit a Public Comment locate and click the Pencil icon as shown below.





Step 2. You can edit, add, remove the text in the text field. Make sure to click on the Update button to store your changes.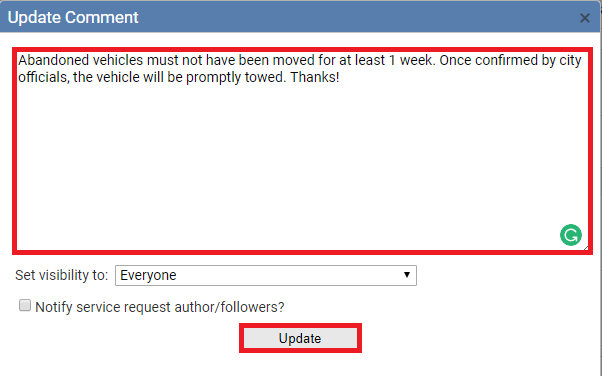 Note: The Set Visibility To drop-down menu has 2 options - (1) Everyone and (2) Comment Author & Console Users only. If Everyone is chosen, this means your edited Public Comment can be seen by the public and console users. If Comment Author & Console Users only, this means only the person who wrote the comment and console user will only be able to view and access the Public Comment. This essentially hides the public comment from the public.