You are now able to upload, edit and delete geofences from the console. In addition, we have introduced the ability to re-index service requests and re-index trash/recycling zones to ensure your data is up to date in the event you update a geofence.
Please Note: Only console users with the security role of a System Admin can upload, edit and delete geofences.
Getting Started
From the Settings page (click the "gear" icon in the upper right corner of the top menu bar), click the "Geofences" link in the left navigation bar.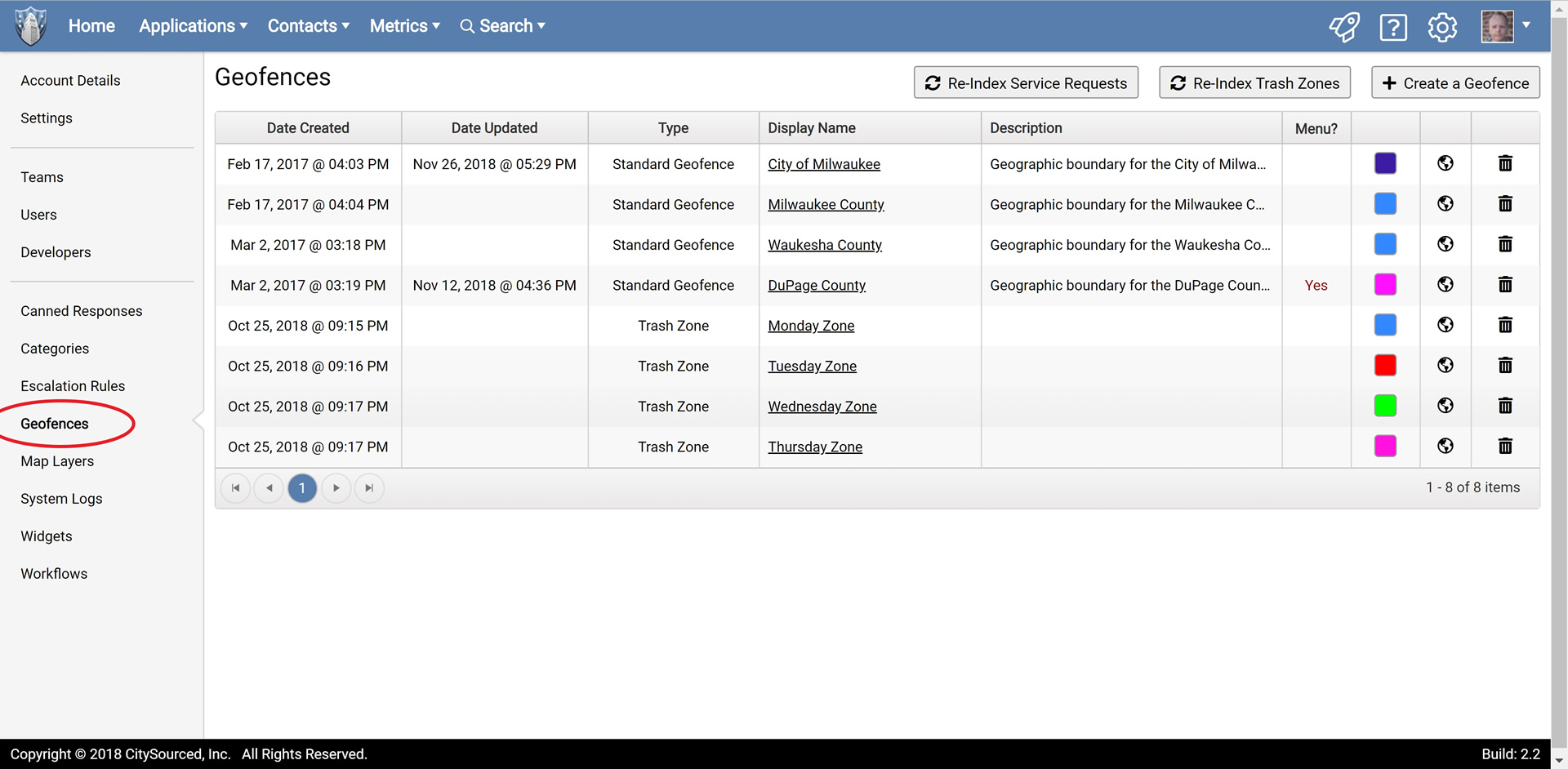 On this page, you'll see all the geofences associated with your account. Below are details on what each column refers to:
Date Created: The initial date and time the geofence was uploaded.
Type:

Standard Geofence: This could be the city/county/organization limit geofence that is associated with each request type. Meaning, only within the city/county/organization limit geofence can residents/app users report in. Outside of the limit geofence, the application will not allow users to report issues. This could also be the geofence you uploaded for metric purposes. For example, you may have District 1 uploaded which will allow you to pull service request data for only that geofence/district area opposed to the entire city/county/organization limits.
Trash Zone: This applies if you have purchased the Waste Reminder add-on. The waste reminder add-on can be embedded in your city/county/organization app and/or your website. This allows your customers to easily sign up for trash/recycling/bulky item pickup reminders that can trigger in the form of an Email and/or SMS notification the night before their pickup is due or the morning of their pickup. For more information, please contact our sales team at sales@rocksolid.com. In the event a trash/recycling/bulky item geofence changes, you will be able to update the geofence and re-index it to ensure your customers receive the correct reminders after updating the geofence.

Display Name: An editable name for your geofence.
Description: An editable description of your geofence.
Visualizing Geofences
To view a geofence on a map, click the "globe" icon.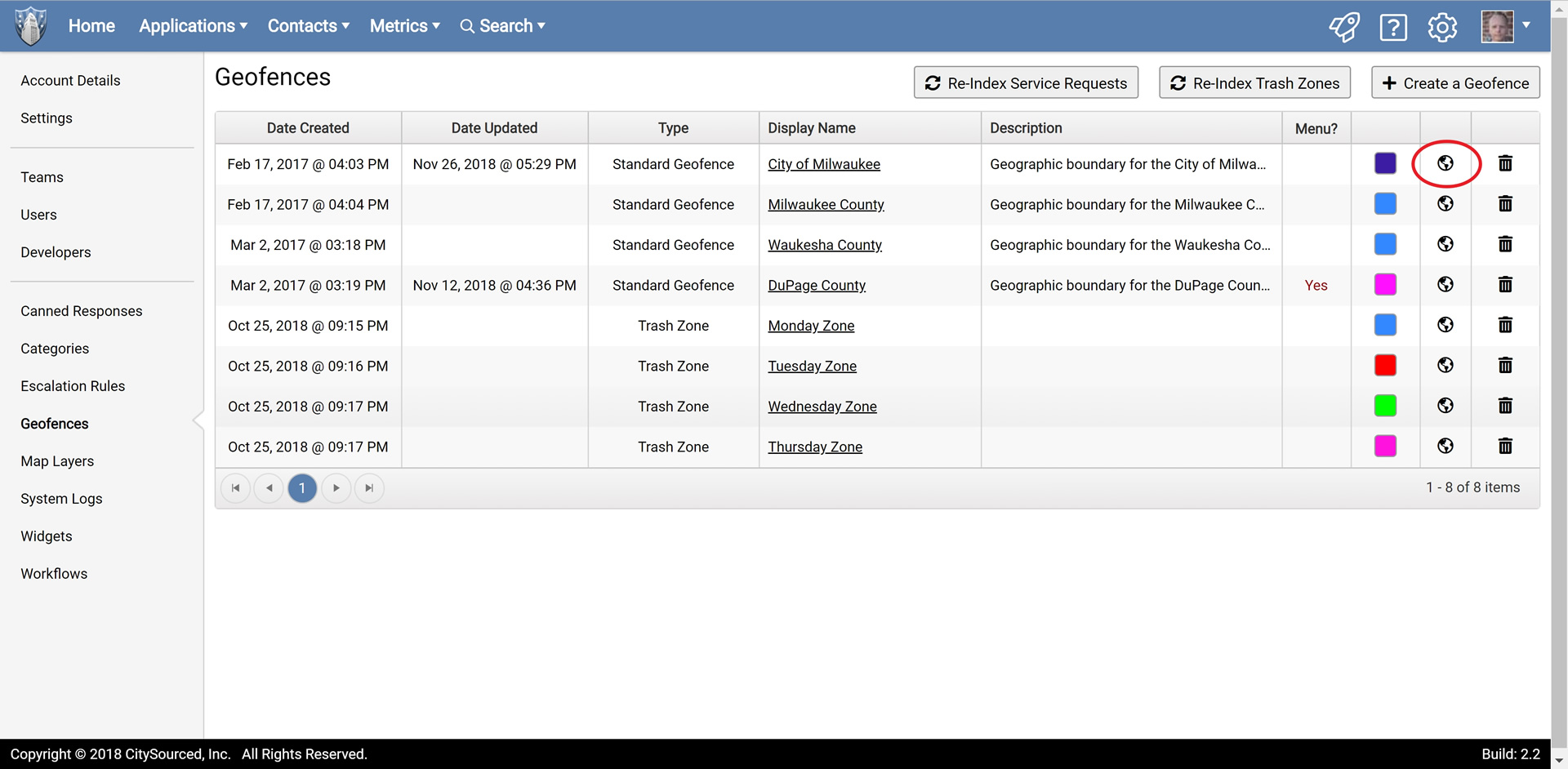 Deleting Geofences
To delete a geofence, you can click on the "trash can" icon.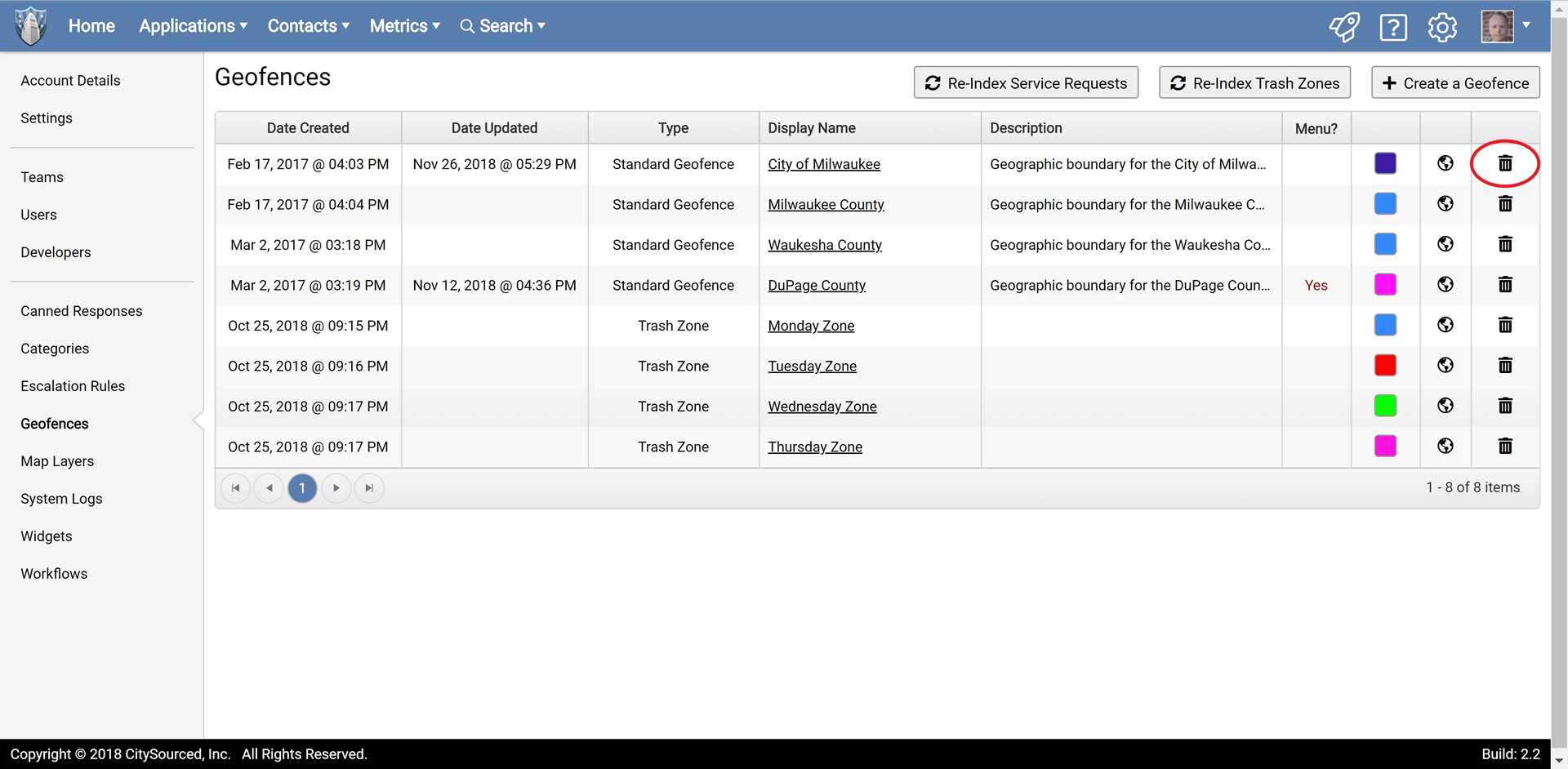 Editing, Part 1
To update an existing geofence, click the display name. A window will appear and you will be able to update the (1) Geofence Type, (2) Display Name, (3) Description, and Shape File/Geofence. Please make sure to click the Update button after making your changes to ensure your geofence gets updated correctly.

Locate and click on the Re-Index Service Requests button to update/correct all service requests that are affected by the geofence update. Please note, updates are scheduled to be completed during non-regular working hours, we will complete updates during the morning hours of 1 am - 4 am PST. These steps should also be taken when updating Trash Zone geofences. In this case, you'll want to locate and click on the Re-Index Trash Zones button.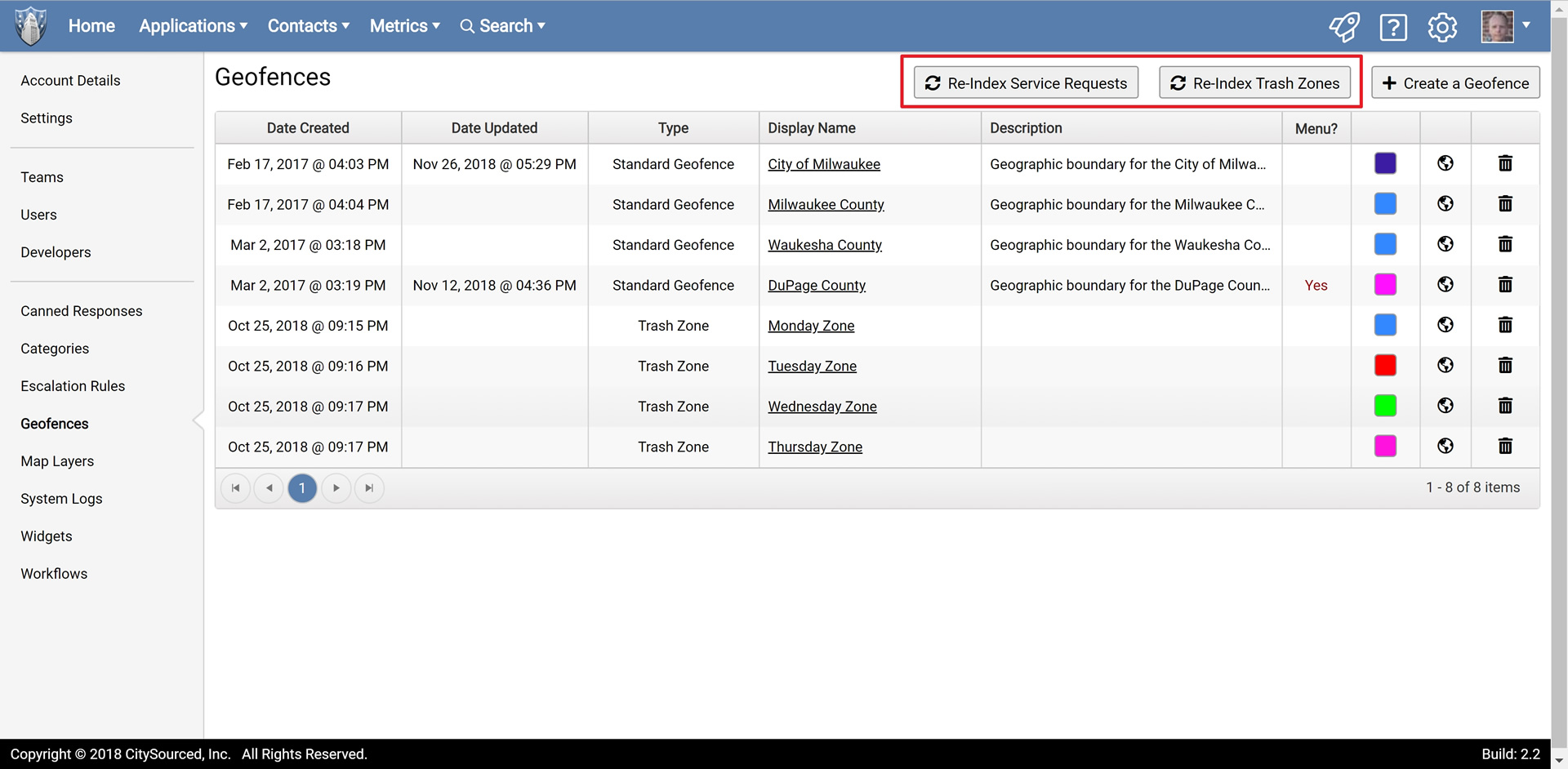 Uploading
Locate and click on the Create a Geofence button found on the top right corner of the page. Satisfy all required fields which include the (1) Geofence Type, (2) Display Name, (3) Description, and (4) Shape File / Geofence. Once all fields are satisfied click the Preview button and then click the Create button to upload the geofence successfully.

Frequently Asked Questions
Are there shapefile/geofence requirements? Yes. The shapefile should consist of several files (.DBF, .PRJ, .SBN, .SHP, .SHX) all compressed into a single .ZIP file per geofence. The data should be spatially projected in the WGS84 format (SRID: 4326), but we can re-project most formats.
After I upload a new geofence, what kind of things can I do with it? You can use the new geofence to help you get granular service request data. For example, if you are interested in knowing how many Abandoned Shopping Carts have been reported, you can select the new geofence in the Filters-Boundary column window to pull that data. You can also use the new geofence for your workflows. For example, if you wanted to have Abandoned Shopping Carts when reported in District 1 to go to a certain Code Officer, you can add the geofence in the Workflow conditions to enable this workflow functionality. Now, moving forward, for Abandoned Shopping Carts reported in District 1, all those service requests will go/be assigned to Code Officer-District 1.