What is Message Center?
The Messaging Module Center allows you to manage outbound communication to you OneView Contacts. You can message all of your contacts or just contacts who have expressed interest in a certain topic or based off their registered address. Communications are sent via Email and Push Notifications depending on the users preferences. If the SMS Texting add on is purchased you can also send via sms text.
Getting Started with Message Center
To create a new message go to the message center from the Modules Menu. Here you can edit an existing message if you want to create standard templates, or you can create a new message by clicking the create new message button, or copy an existing message as a template.
The message composition window is split into three panes
Content
Filters
Publishing

Content
In the content you can name the template a name you wish to use for refering to the email. For instance you can name it "Monthly Parks and Recreation Update" or "Snow Road Closures Template".
You can create English and Spanish Versions of the message. English content is required and will be sent if no Spanish version is provided. If Spanish content is sent users who have set there phone or web browser to Spanish language will receive the Spanish version of the message.
For Email and Push a Subject and Body are required, SMS (if add on is enabled) can only have a body as SMS messages do not include a subject line.
Subject lines can be no more then 120 characters and message bodies can only be 400 characters on push but unlimited on emails.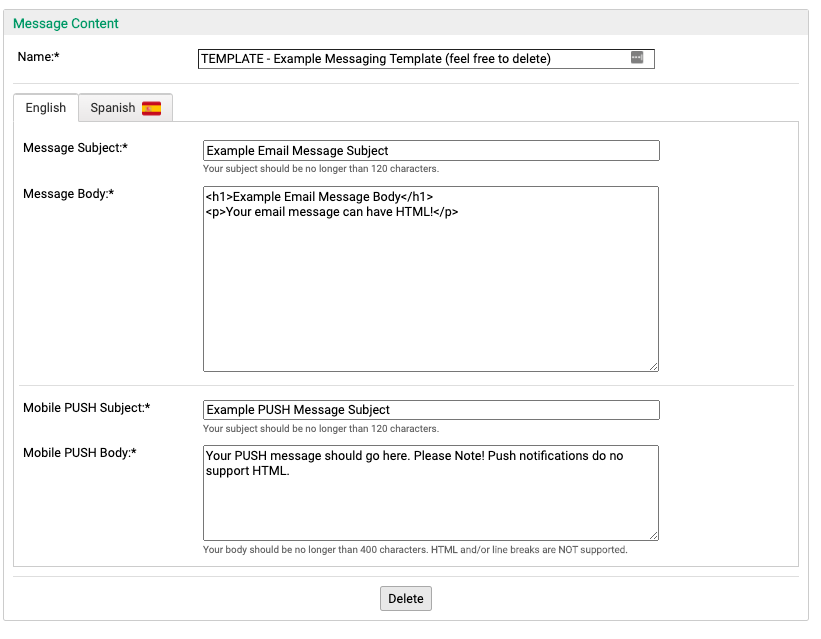 Filters
You can filter who receives the message based off of Channels and Topics and Location.
Channel/Topics
You can select as many channels as you wish, if a user is subscribed to mulitple channels/topics that have been selected they will still only receive 1 message. If you don't select a Channel/Topic your message will go to all users.
Location Filters
You can also filter recipients of the message based off of location. Location is based off of the users address book locations, we do not send messages based off of GPS history. There are two types of location filters Geofences which are shapefiles uploaded to the console, or by picking a point and selecting a user within the radius of that point. You can also select multiple geofences is a message should be sent to more then one region.
For more information on managing geofences please review this article

Publishing
When you are ready to publish you will see a summary of how many users will receive the message in message metrics. If you are happy with the content and audience filters you can
Save as Draft - This saves the content but does not publish.
Publish Now - This sends the meeting immediately
Publish Later - Schedule the meeting to go out at a future date. A message scheduled for later will be sent to the users selected at the time of publishing not at the time of composing the message.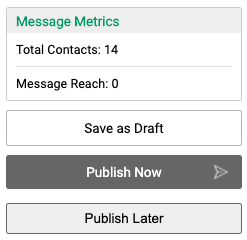 Before publishing or later you will see a preview of the message in the Mobile applications to confirm before sending.