Introduction
One of the attractive functionalities in Dynamics 365 for Finance and Operations is the ability to pin Power BI visuals into workspaces, an important functionality that seamlessly integrates two important business management systems in one platform. The users can pin two types of objects from Power BI: reports and dashboards.
The interaction between users and Power BI visuals takes place in the Workspaces. The Workspaces provide instant insight without having to switch between systems.
Quick Summary
Assuming that the system administration has configured the integration of Power BI to the user's D365 F&O instance, the users are required to meet the following two requirements to start working on Power BI visuals:
Sign up for PowerBI
All users who are going to work with Power BI and D365 Finance and Operations are required to sign up for Power BI individually. It's important to use your email address associated to the D365 FO instance where you commonly log in.
Use the link below to follow the instructions:
https://docs.microsoft.com/en-us/power-bi/fundamentals/service-self-service-signup-for-power-bi#sign-up-for-the-power-bi-service
Authorization for reporting visualizations
An authorization to connect the Power BI user account and get access to the reporting visualizations from D365 F&O must be executed. To complete this follow the steps below:
Within a Dynamics 365 for Finance and Operations workspace (ex: Budget planning), scroll to the right of the workspace until you see the "Power BI" section.

Click "Get started".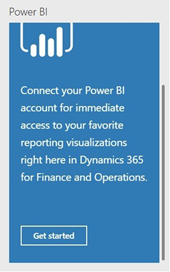 An "Authorize Power BI" window will pop up. You will need to click the link that says "Click here to provide authorization to Power BI". However, before you do that, make sure that you have logged on to the Power BI service at least once at: powerbi.com

. Otherwise, you will need to logon to the Power BI service now before continuing.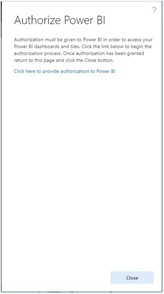 Once D365 F&O and Power BI recognize your user ID a new window will pop up.
Click "Accept" to finish the integration.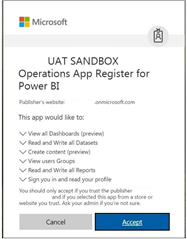 Close the "Success!" screen

Conclusion
This is all that is required to start working with Power BI visuals within D365 F&O. You can install the Power BI Desktop application to build your reports. Remember to use your email address associated to your D365 F&O instance, the same one that you used to create sign up to the Power BI service.