Introduction
This article is focused on crediting an ACH payment made through the Accounts Payable Module. The main objective is to identify the transaction that was incorrectly paid and complete a procedure to collect refund from vendor and correct Accounts Payable aging.
Quick Summary
When a reverse of an ACH payment is made, it is important to take into account the status of said payment. If the payment has been uploaded to the bank and collected by the vendor, a collection will need to be requested to the vendor.
These are the main recommended steps for the procedure of replacing the incorrect payment with a new payment and settling the incorrect payment to future invoices as a credit:
Collection process to request a refund for the over payment amount
In those scenarios where the ACH file was uploaded into the bank and the payment was received by the vendor, a reversal cannot be done to the original ACH transaction.
A credit in the Accounts Payable module is suggested, to be applied in the next payment to be issued to the vendor. Alternatively, the company can prepare an invoice in the Accounts Receivable module.
To register the credit into the Accounts Payable module, follow these steps:
Create a new invoice journal with the overpaid amount in the debit. This document will be available to reduce the payment of a future invoice.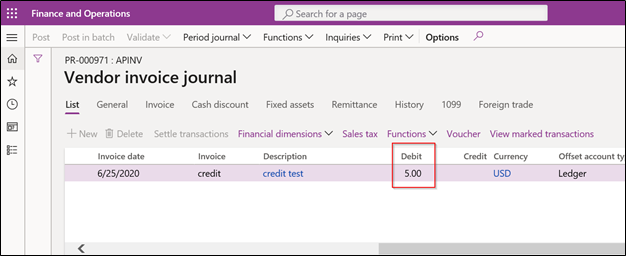 2. Post the invoice journal.
Prepare new payment
Proceed to generate a new payment as usual, using the credit that was prepared at Collection process to request a refund for the over payment amount section.
Create a payment journal for that vendor, and in the settle transaction select first the credit and then the invoices to pay. Complete the payment process as usual.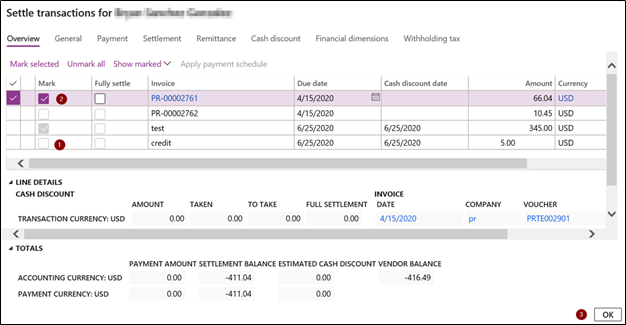 Validate the transaction was correctly completed
Next step is to validate the transaction was completed as expected. These are the suggestions:
Validate the Vendor's transactions (Accounts Payable> All Vendors > Vendor > Transactions > Transactions).
Validate the transaction in Payment History form (Accounts Payable> All Vendors > Invoice >Payment History).
Validate the transactions in Cash & Bank Management.
Conclusion
Payments that are made electronically cannot be reversed after they have been collected. Instead, a new transaction must be created for the amount of the payment to record the vendor's liability in the Accounts Payable's module. An alternative is a billing to the vendor thru Accounts Receivable module. As always, make sure to review that all the processes are successfully completed.