List of Terms
Request Type - This is the highest level of organization, when a user selects create a request the first drop down they see are the request types. Request types are what show up in high level reports and have the most configuration options. The console can also filter by request types.
Groups - You can group request types into higher level groups, these groups allow users to better find requests and reduces the number of options seen on the first drop down while still allowing for request types to be clearly broken out in reports.
Sub Items - Request types can have infinite number of sub items on the request types. Sub items can be used to require or prompt additional information from your users. Sub Items aren't included in the out of the box metrics but are included in downloaded reports.
You can edit your request types from the Console. Just go to settings and select request types.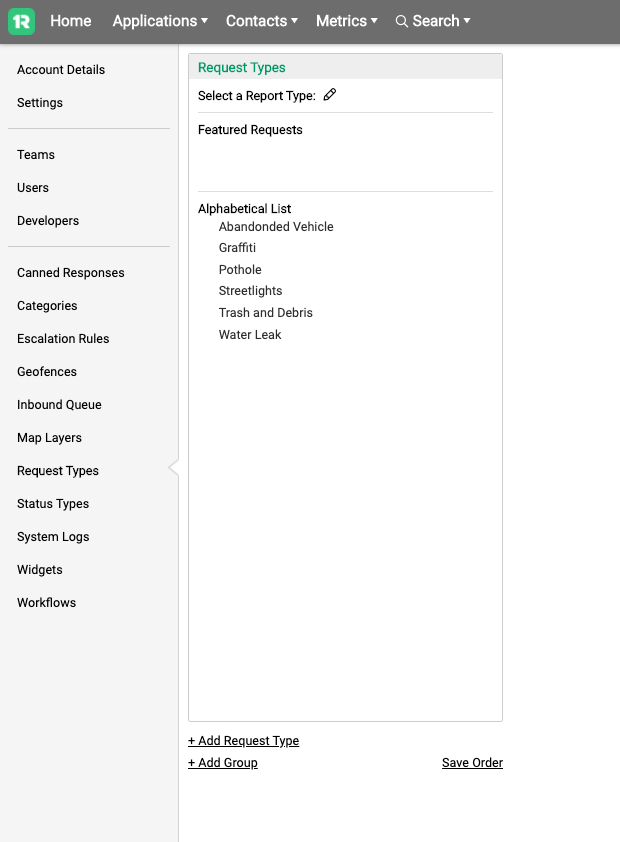 After clicking add request type, you will first need to set a label and click save. to create it, you can also add a Spanish label that will show up when a user's device is set to Spanish (if you don't add a Spanish label the type will show up in English).
Once you have saved the item you have several options you can set.
Group - If you want to group requests together for example all street issues into one group. Select it from the list, and if the user selects a group they will then be asked to . If you don't select anything it will be in the first drop down.
CityWorks SID - If you have CityWorks integrated you can link a request type to a CityWorks SID at the request type level. (Note to insert the request to CityWorks automatically you will have to create a workflow).
Options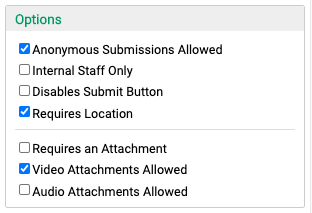 Anonymous Submissions Allowed - If this is checked then users can submit this request type without logging in. If unchecked then they will have to login to report that request type. (Note: If your application is set to not allow Anonymous Submissions users will have to login in regardless of this setting).
Internal Staff Only - Checking this will keep the hide the report type from mobile and web apps and only show the report type in the console.
Disables Submit Button - If the user should use an alternate requesting system for a specific request type, then check this box and add an info panel sub item (see below) to direct the user to the correct requesting channel.
Requires Location - If this is checked users will have to select a location to submit. If unchecked users will not be asked for location and there will be no Lat/Long associated with the submission. This also means it will not show up on maps only request lists.
Requires an Attachment - If you want to force the user to add an Image, Video, or Audio file check this box to prevent submission without one.
Video Attachments Allowed - If you want to allow video attachments check this box. Unchecking it will give the user an error on the web or prevent attaching video files on the mobile app.
Audio Attachments Allowed - If you want to allow audio attachments check this box. Unchecking it will give the user an error on the web or prevent attaching video files on the mobile app.
Additional Details
Until you save the Request Type the Additional Details will be blank. Once saved by default you will have a "description" text box. You must have at least one item in the additional details section but there is no maximum.
RockSolid suggests you ask for no more than 5 additional details items for simple requests and no more than 20 on more involved requests. The fewer additional details the better the quality of data being submitted.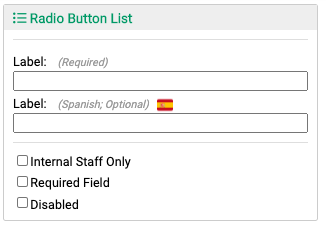 Each UI Type has it's own settings but all Report Items have
English Label (Required)
Spanish Label (Optional)
Internal Staff Only - This question will only be asked to users in the console and will not be shown to the end users.
Disabled - Disabling a report item will hide it from the console and the end users systems. Since it may be part of legacy data we don't allow deleting the report items.
To add an additional detail field click the Add an item this will bring up a menu of types of input fields you can choose from.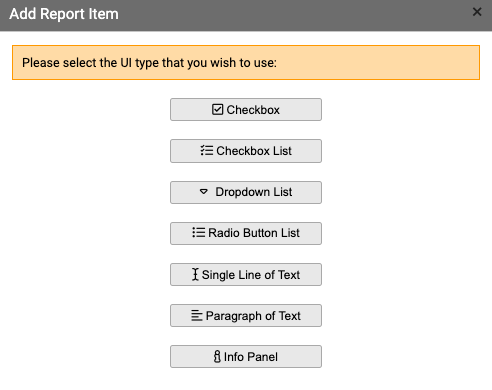 To add a new request type, click the add Request type button. The request type, is what appears in most built in reports and has more options than sub items. By default the request type is included in the alphabetical list, however you can drag it up to the featured requests and place it in the top of the list using featured requests. Featured requests will always show in the order you assign at the top of the list.
Checkbox - A check box allows you to ask a simple yes or no question. i.e. "Is this graffiti on public property?"
| | |
| --- | --- |
| | "RockSolid suggests you make it a clear question to the user, for example "Public property?" would be bad because it's unclear what question you are asking. "Is the graffiti on Public Property?" Yes/No would be much clearer to the user." |
You can set exactly what the Checked and Unchecked Value means and it will display to the user in the Checkbox Items.
Checkbox Items can have sub items added to them that appear when the box is checked. For example, you can have a checkbox for "Offensive graffiti" that when checked gives you a drop down list of reasons why it's offensive.
Checkbox List - A Checkbox list allows you to group a bunch of checkboxes in one list. Checkbox lists work like Checkboxes. However they cannot have sub items added to them.
Dropdown List/Radio Button List - A Dropdown List or a Radio Button List both work the same way allowing your user to select one option from a list you specify. The main difference is a checkbox list uses a drop down that a user has to open to see the options while a radio button lists shows all the available options without having to click the dropdown.
| | |
| --- | --- |
| "Rock Solid suggests using a radio button list 2-4 items and a dropdown list when you have more then 5 selections" | |
You can add as many items to your list using the Add Item button. You can also drag and drop the items so they appear in a logical list for your users. Clicking the pencil icon allows you to edit the label.
Line of Text/Paragraph of Text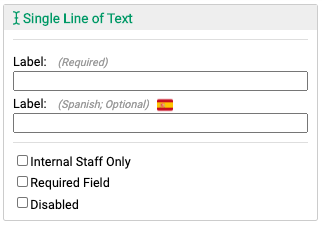 Single Line of Text and Paragraph of text both have the same options. The difference is in how many characters the user is allowed to enter. The only options for text boxes is the standard options.
Text boxes can also be configured by our staff to only accept Dates, Times, Date and Time, Whole numbers, or Numbers with decimal places. For assistance please email support@rocksolid.com
Info Panel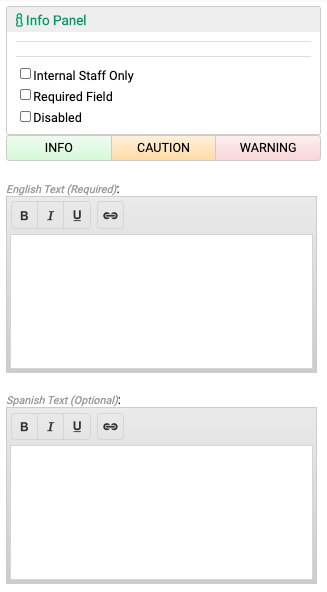 Info panels are not meant as inputs but can tell people information about the request type, or when combined with a prevents submit setting they can redirect users to a different method of reporting.
Info panels have 3 styles Info, Caution, Warning that highlight to users different severities of notes.
You can add bold, italics or underlines as well as link out to other websites.
Sub Items
Using sub items you can create complex nested forms where users are only presented with questions related to the selections they have already selected. Combined with info panels you can help your users navigate your organization and make sure requests are routed to the correct place.
You can add subitems to
Checkboxes
Dropdown Lists
Radio Lists
To add a sub item open it up the Items menu, and click the add sub item link on the right.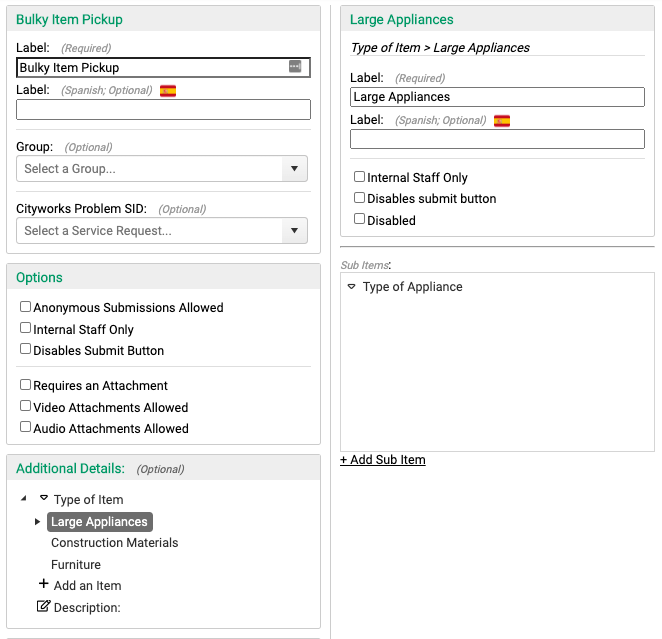 Best Practices
Request types should be organized logically for your citizens, based on the words and terms they would use in conversation. Sometimes the same request type is handled by different agencies and departments based off of location and sub items. Rather than creating separate request types in these cases it's better to use workflows to assign them to different teams.
Updating Filters
As you update your request types clicking save will make the changes to your application without any additional steps. However when you go to the Service Requests module or Metrics Page the new changes won't be immediately available. When you are done making your edits you have to click the "Update Filters" button at the bottom of the page to update our filters with your new edits. It may take a while for our filters to reindex your issue so they may not be visible immediately.