To create a request from the OneView Console click the Create a Request Button in the bottom right hand corner of the screen.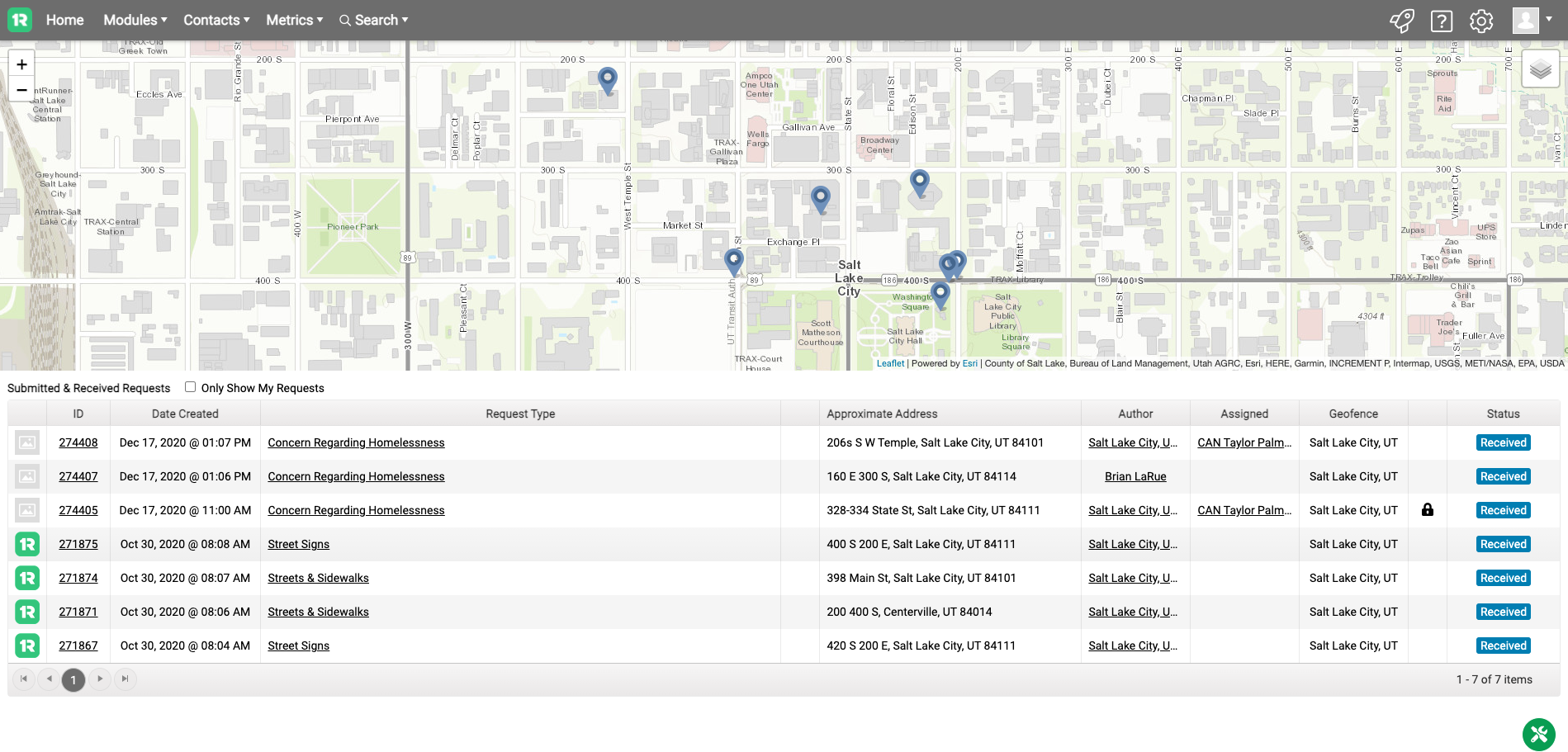 Set Origination

The first step after clicking the Create a Request button is to select the origin of the request. When selecting the option for Walk In or Telephone, the Origination field will auto populate. Other ( + icon) will take you to the Create a Request panel where you will have a list of additional options to choose from.

Select or Add Contact Information

The next step is to select a contact or select anonymous for the person reporting. You can search for contacts if they exist by first name, last name, Email, or Phone Number. If you can't find a match you can click "add contact" to add the user to the system.

Note: The Create Request Button is Contextual so depending on which page you click it on it will pre populate the contact fields.

Service Requests and Home Page: No pre-populated fields

Contact Details Page:

If you are on the contact page for a citizen the contacts name will be pre-populated.

Inbound Queue Page:

If you are on the Inbound Queue page the email and contact (if it exists) will be pre-populated as well as having Origination set to Email.

Set Request Type:

Clicking the Type of request pulls up a list of request types organized by category. This list includes all requests including internal request types. You can either select a request type or search for one results will be returned even if they are inside a category.

Add Request Details and Location

Location Details

Once you have selected a request type, you can either search for an address for the location, or you can click the map to drop the pin on a map.

Duplicate Detection

After a location is selected if there is a duplicate detected you will be prompted to either mark it a duplicate request and subscribe the user to the existing request, or continue creating a new request.

For more information on how duplicate detection works please refer to the article on Duplicate Detection.

Request Details

Clicking request details pulls up the list of additional information to fill out about the request type. This will include Internal fields as well as the fields displayed in the OneLink Application.

Attachments

Clicking the Paper click icon allows for the attaching of images.

Visibility

Clicking on the "Hide request from the general public" will hide the request from Nearby requests and duplicate detection in the OneLink App.

Once All required fields are filled out you can hit submit to submit the issue.

Create another request or Close

Once submitted, you can view the request start another request, or create another request for the same contact.