Many service requests citizens make are related to fixed city assets such as light posts and fire hydrants. While having the user drop a pin on a map, is helpful in getting your responders close to the issue. When possible it's best to allow users to select the exact asset for which they are making a request. Especially when their request is related to a densely spaced asset like streetlights, where a user's pin could be in between several on the same block. In these cases you want to configure your location type to asset selection.
When a request type's has asset selection turned on, the location select screen shows the assets as colored dots. Instead of dropping a pin anywhere on the map the user is forced to select a specific asset's dot to continue. The assets are also displayed as cards along the bottom of the screen and the user can swipe through them if the dots are too dense to easily pick the asset they are reporting an issue with.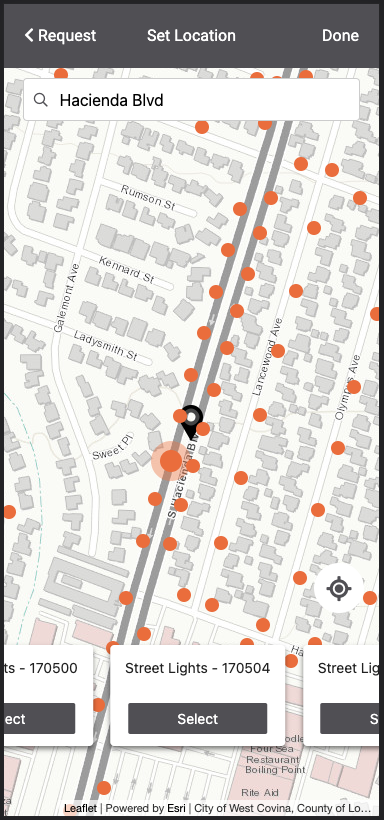 With asset selection not only do you get better location data but you can also include valuable asset information from your GIS database in the service request. On the request page the Asset's ID is prominently featured in the request data, clicking the details button will show any additional information you have in your GIS.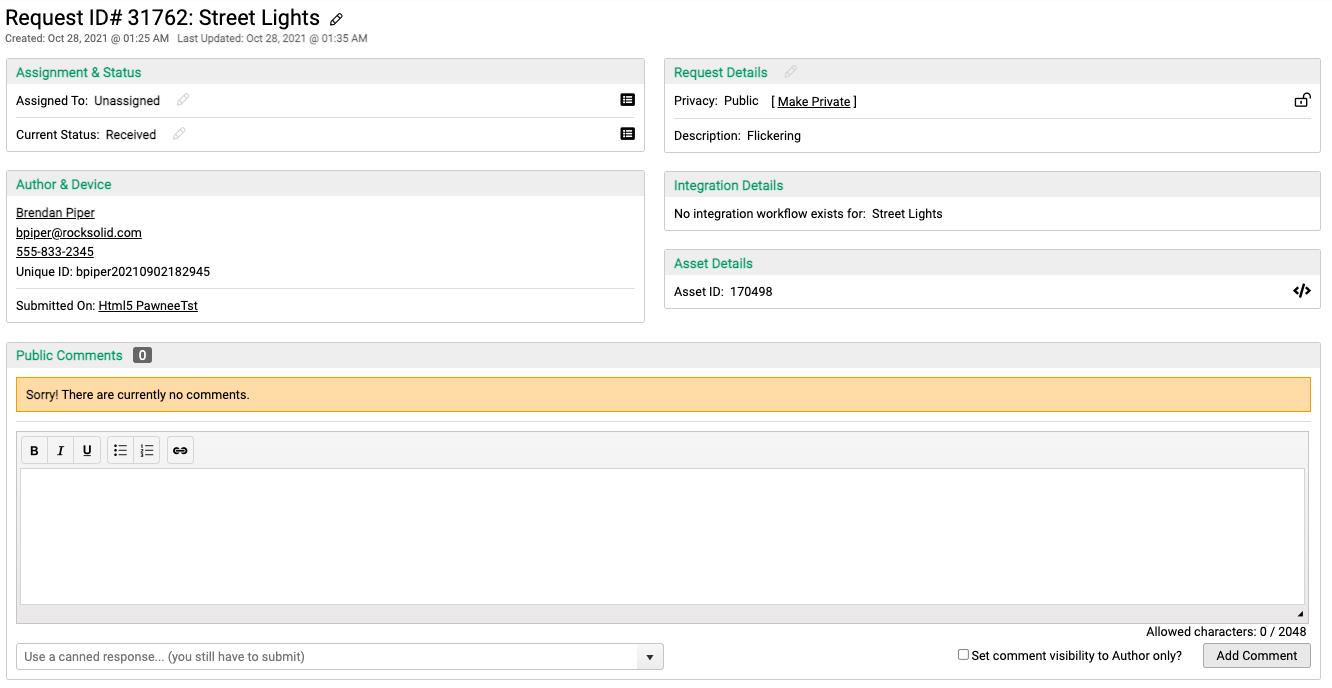 For example if your GIS database for streetlights contains the lamp type you can let your responders know if a broken streetlight uses halogen or led lamps so they can make sure they have the right materials before traveling to the location. Additionally if your GIS database includes which utility companies are responsible for which poles you can route requests accordingly.

What's Needed to Setup Asset Based Locations
In order to setup Asset Based locations you need to have a feature service for your assets available as a publicly available REST endpoint.
In the boundaries section of your settings click the create map layer button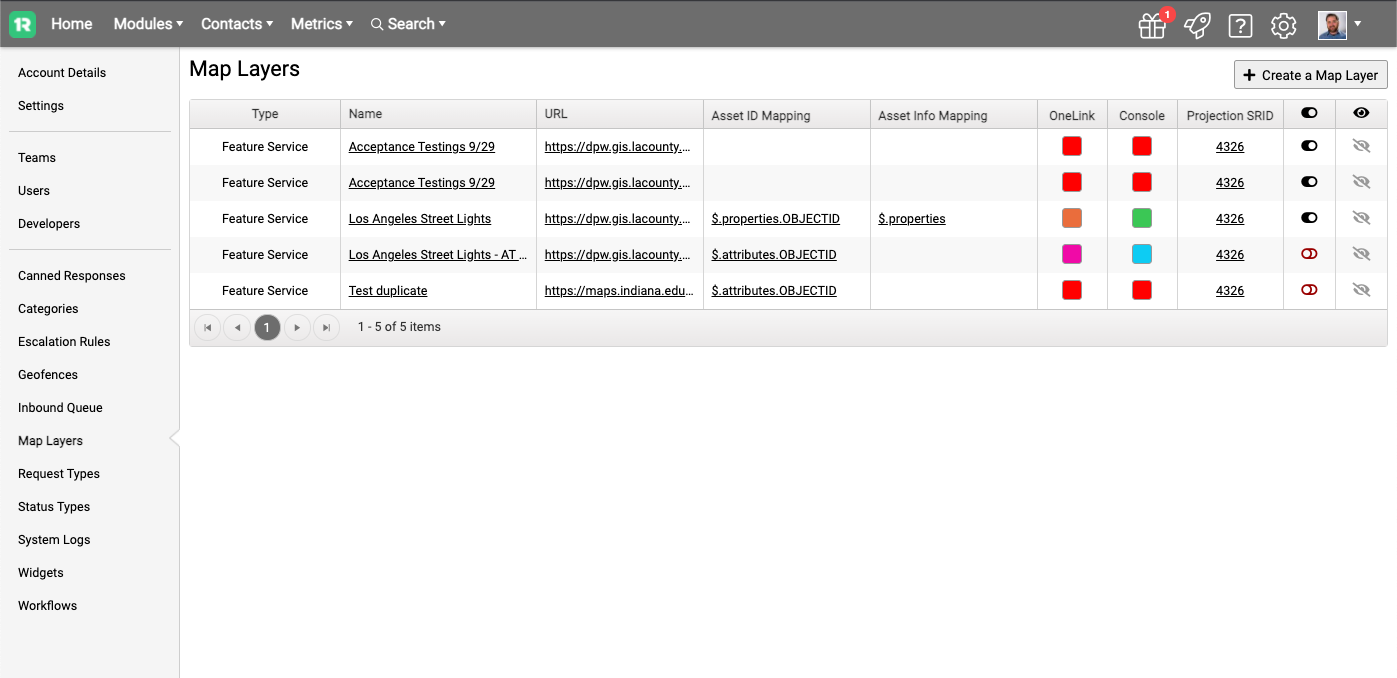 On the create map layer modal you need to fill out the following details
Name - The name of the layer. This text is also the label users will see in the OneLink application.
Map Layer Type - This dropdown needs to be set to feature service.
Layer URL - The URL for rest endpoint.
Asset ID Mapping - Insert a jpath to tell OneView where the main asset id is located in the JSON. (If you need help constructing a jpath, leave this field blank and reach out to our account services team at support@rocksolid.com).
Asset Info Mapping - Insert a jpath to OneView where in the JSON to locate the pertinent asset details. (If you need help constructing a jpath, leave this field blank and reach out to our account services team at support@rocksolid.com
Projection SRID - Specify the SRID for the feature service so that we can reproject the map.
Additionally on the Map Layers settings You can choose two colors the Color to be displayed in OneLink typically the primary color for your OneLink app to maintain the brand identity of your organization, and a OneView color use this to give each layer a different color allowing you to view multiple assets on the map at the same time.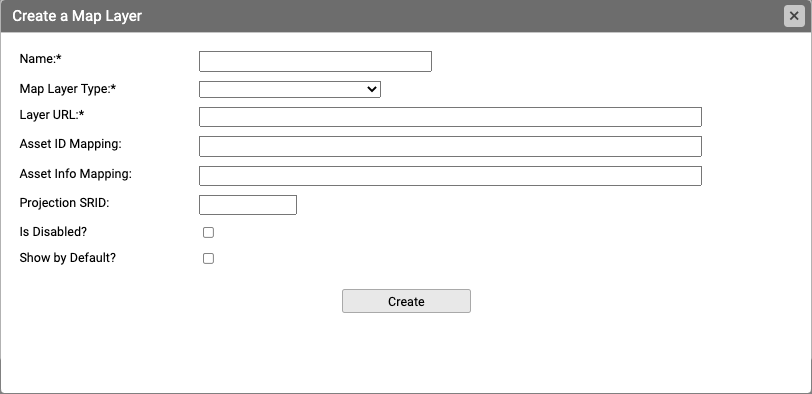 Once the map layer has been added Account services can connect the feature service to the relevant request type. If you have multiple request types that relate to the same assets, the same map layer can be used for any request type related to the same map service.
FAQ's
Q: Can a request type allow for both asset selection and dropping a pin?
A: Currently we select one location setting per request type, so that users are driven to provide higher quality data.
Q: Our GIS endpoints are password protected, can we use Asset Based locations.
A: We don't support password protected endpoints, as all map layers entered will be publicly available policies should allow for opening these end points publicly.